Online Safety
Internet Safety at St Bernard's
At St Bernard's we take online safety very seriously and there are systems in place which ensure your child is safe on-line in school. These include:
Online safety policy
Supervised use of the internet
Acceptable Use Policy
Designated Online Safety Lead
Online Safety Blog
Online Safety Policy
The online safety policy is available for you to view online or at school.
Safer Internet Day
Each year St. Bernard's takes part in 'Safer Internet Day' and classes discuss staying safe online on a regular basis. However, staying safe online is incorporated into all computing lessons and sessions where children will be using the internet. It is also an integral part of our PSHE lessons.
Acceptable Use Policy
All children and parents are expected to sign and keep to an acceptable use policy.
Primary Pupil Acceptable Use Agreement / Online Safety Rules
I will only use ICT in school for school purposes.
I will only use my class e-mail address or my own school e-mail address when e-mailing.
I will only open e-mail attachments from people I know, or who my teacher has approved.
I will not tell other people my ICT passwords.
I will only open/delete my own files.
I will make sure that all ICT contact with other children and adults is responsible, polite and sensible.
I will not deliberately look for, save or send anything that could be unpleasant or nasty. If I accidentally find anything like this I will tell my teacher immediately.
I will not give out my own details such as my name, phone number or home address. I will not arrange to meet someone unless this is part of a school project approved by my teacher and a responsible adult comes with me.
I will be responsible for my behaviour when using ICT because I know that these rules are to keep me safe.
I will support the school approach to online safety and not deliberately upload or add any images, video, sounds or text that could upset any member of the school community
I know that my use of ICT can be checked and that my parent/ carer contacted if a member of school staff is concerned about my online safety.
Online Safety for Parents
As the first generation of Internet parents, we're at the bottom of a learning curve that seems to grow steeper with each new application and digital device. We can help our children take advantage of the best the Internet has to offer by showing them how to make smart decisions both online and off. The best way is to step into our children's online world.
Children can access the Internet in many different ways. Gone are the days of the desktop PC in the front room, where adults can supervise with ease. Access to the Internet has become increasingly mobile through tablet computers, iPads, mobile phones and laptops.
SIGN UP FOR THE LATEST E-SAFETY ADVICE AND SUPPORT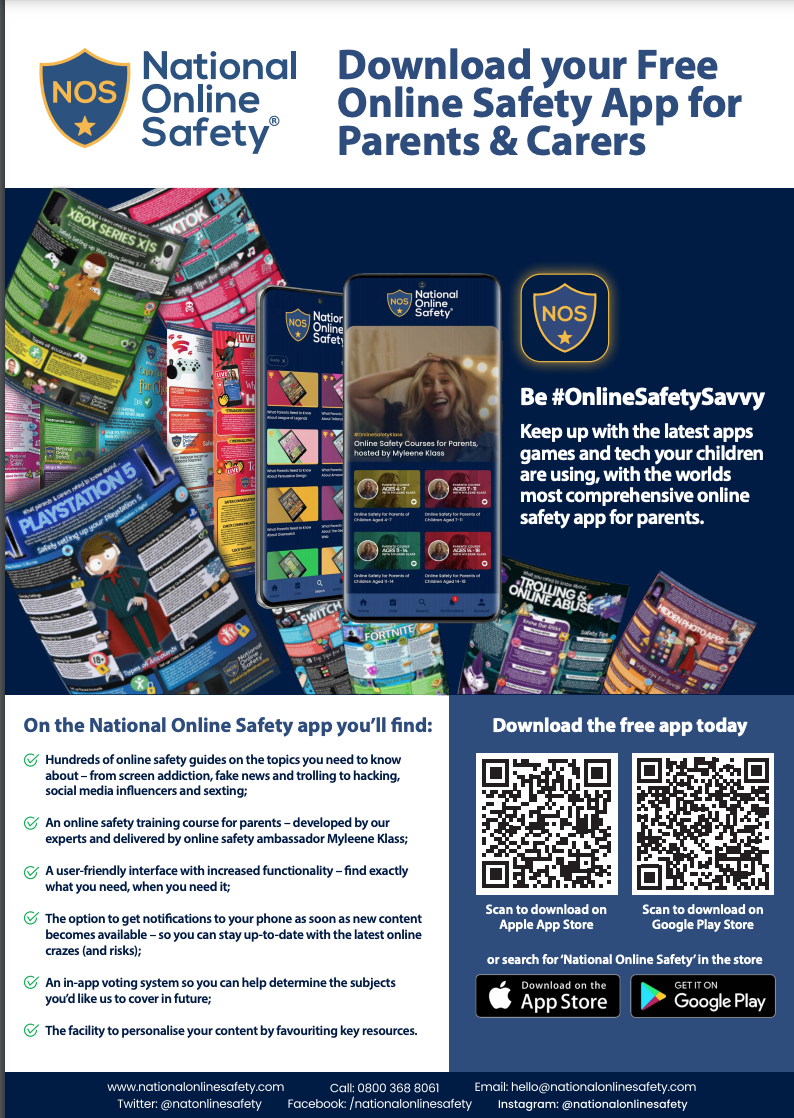 Here are some key ways children use the Internet and what you should know about each one.
Learning Online
The Internet is often the first (and only) stop for pupils who have a project to research or a question they want answered.

Advice for you: Use child-safe search engines. Visit www.schoolfamily.com. Focus on results from trusted resources, such as the websites of established organisations and well-known newspapers and magazines. On Google you can choose to activate 'safe search'.
Social Networking
Social networking sites allow users to stay in touch through instant messaging, posting public messages to one another's profiles, sharing photos and videos, playing online games and much more. Privacy settings allow users to restrict who can view their profiles. Twitter, SnapChat and Facebook are three types of social media that children will be familiar with.

Advice for you: Join social media accounts together and go through the privacy controls with your child, get them to guide you through it. Make friends with them online, then you can keep an eye on them. Also a good rule of thumb is that only people your child has met in person should have access to their social networking profile.
Visiting Virtual Worlds
Children of all ages are drawn to virtual worlds where they can customize and control their own characters (or 'avatars'), play games, interact with other players. Minecraft is a popular example of this.

Advice for you: Ask your child for a tour of their favourite virtual worlds. Check out the privacy features and parental controls.
Instant Messaging and Text Messaging
Children will begin texting and instant messaging and sending pictures/videos through computers, mobile phones, and other mobile devices. They are many free apps such as What's App that allow free text and photo messaging.

Advice for you: Ask your child to think about whether he would like any of the texts or pictures he meant for only one friend to appear on the mobile phones and computer screens of all his classmates...
Posting and Viewing Videos
Video-sharing sites are incredibly popular with children. At our school many junior-aged children access YouTube and either watch videos or post videos of themselves.
Advice for you: Monitor the videos your child is watching. Ask them to see any videos they have made and what they plan to do with them. Tell your child to let you know if they see anything that upsets them. It's important that you know what she sees so you can figure out together what to do about it.
How to Keep Your Child Safe Online
As parents we worry about our children constantly, both online and offline. As parents our job is to prepare our children to go into the world one day with us. Our job is to help prepare them to do things independently and responsibly.
Here is a brief guide to protect your child online with links to further information.
"HOW TO" GUIDE: Protecting your child's online profile and activity
Talk about how they use the internet
Encourage your children to tell you if something they encounter on the Internet makes them feel anxious, uncomfortable, or threatened. Think You Know have advice on how to do this.
Establish Internet rules.
As soon as your children use the Internet on their own, establish rules for Internet use. These rules should define whether your children can use social networking sites and how they can use them.
Educate yourself, stay in the 'loop'
Evaluate the sites that your child plans to use and make sure both you and your child understand the privacy policy and the code of conduct. Find out if the site monitors content that people post. Also, review your child's page periodically.
Teach your children never meet anyone in person that they've communicated with online only.
Children are in real danger when they meet strangers in person whom they've communicated with online only
Encourage your children to communicate with people they already know.
You can help protect your children by encouraging them to use these sites to communicate with friends, but not with people they've never met in person.
Be wary of identifiable information in your child's profile.
Teach your child to use only a first name or nickname, but not a nickname that would attract inappropriate attention. Be careful when your children reveal information that can identify them, such as a school mascot, a workplace, or the name of the town they live in.
Teach your children about cyberbullying.
As soon as your children are old enough to use social web sites, talk to them about cyberbullying.